LAGOS, NIGERIA – [October 3, 2023] – The Lagos International Poetry Festival (LIPFest) is delighted to announce the highly anticipated program for its 2023 edition, along with the commencement of registrations. This year's festival promises a captivating blend of performances, readings, workshops, and panel discussions, and a one-million-naira winner takes all poetry slam. LIPFest 2023 will feature renowned headliners Jericho Brown and Bassey Ikpi, alongside poets, writers, and artists from across
Nigeria, Ghana, Kenya, Gambia, Germany, the UK, and Slovenia.
Scheduled to take place from October 26th to October 29th at Alliance Française | Mike Adenuga Centre, this year's LIPFest draws art and literary enthusiasts into the Sanctuary with a four-day series of events designed to hold space for stillness and renewal. Attendees can look forward to an array of thought-provoking sessions, including poetry readings, panel discussions, workshops, and lots more.
Registrations are now open for this extraordinary literary event, which promises to be a source of inspiration, creativity, and connection for art enthusiasts, poetry, and literature aficionados alike. To secure your spot and explore the full programme, visit Festival Website.
LIPFest 2023 is not just a festival; it's a platform for the celebration of creativity, the connecting of cultures, and the exchange of ideas in an atmosphere of camaraderie and beauty. Join us in Lagos for an unforgettable literary experience!
For media inquiries, interview requests, or more information about LIPFest 2023, Uchenna Emelife can be reached at +2348183590971 or by email at emelifeuc@lagospoetryfestival.com.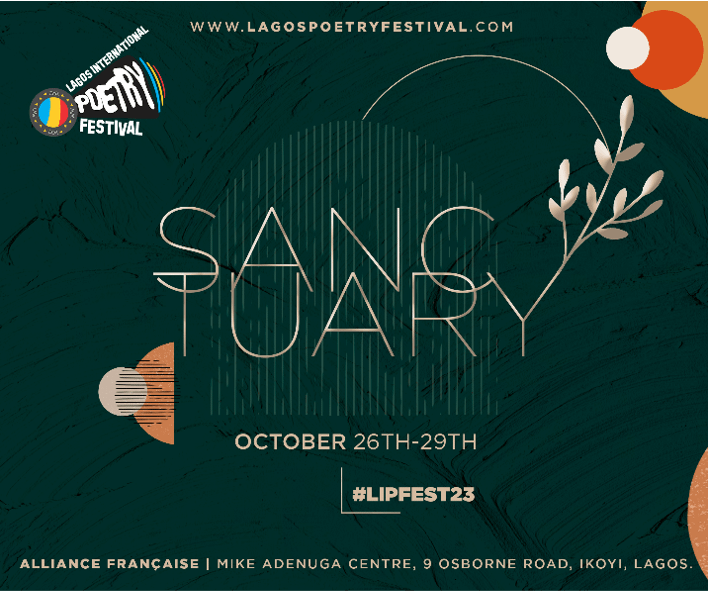 The Lagos International Poetry Festival (LIPFest) is an annual celebration of poetry, literature, and culture. Since its inception, LIPFest has been committed to promoting poetry as a tool for social change and personal expression. The festival brings together poets, writers, artists, and literary enthusiasts from around the world, creating a vibrant and inclusive space for the exploration of the written and
spoken word. For more information about LIPFest 2023 and to register, please visit Festival Website.