THE SIGNIFICANCE OF BOOKS IN TODAY'S DIGITAL AGE
In a world dominated by screens and social media, the allure of books is often forgotten. Yet, nestled within the pages of a book, is a treasure trove of knowledge, wisdom, and imagination waiting to be rediscovered.
Books are a window to one's soul. Reading offers a glimpse into a writer's inner world, allowing readers to connect with their thoughts, emotions, and experiences on a deeper level. Reading is embarking on a journey. As you turn the pages of a novel like Chimamanda Ngozi Adichie's "Half of a Yellow Sun," you suddenly find yourself in a world where the events of the Biafran War unfold before your eyes, offering a deep understanding of love, loss, and the spirit of resilience during conflict. In a similar manner, Ben Okri's exquisite prose "The Famished Road" transports you to a realm where spirits walk among us, dreams come alive, and the boundaries between reality and enchantment blur in a dance of wonder.
However, books are not just an escape from reality, as commonly believed; they are instruments of personal growth that enrich our present. Consider the impact of Ayi Kwei Armah's "The Beautyful Ones Are Not Yet Born," a moving exploration of moral decay and individual integrity in post-independence Africa. It evokes strong emotions while uncovering the hard truths we struggle to accept, fostering self-improvement by allowing us to view the world from a fresh perspective and empathise with the experiences of others.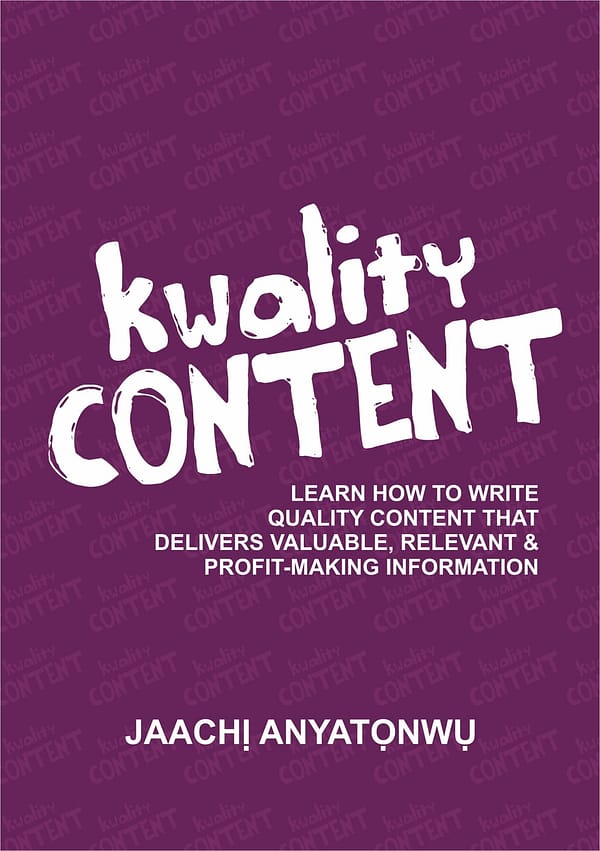 The book "Kwality Content" is a comprehensive guide for anyone who wants to master the art of creating engaging and effective content for digital media. Whether you're a blogger, marketer, copywriter, or content creator, this book will help you produce high-quality content that resonates with your audience and achieves your goals.

Warning: foreach() argument must be of type array|object, bool given in /home/poemify1/public_html/wp-content/themes/hub/liquid/vendors/woocommerce/functions.php on line 1090

Reading is more than a pastime; it's a form of therapy. People turn to various genres, from inspirational memoirs to uplifting self-help books, seeking solace, navigating loss, and rekindling hope in the limitless works of literature. There's a unique magic within a book in its ability to cater to every taste and preference.
Regrettably, in recent years, many African societies, particularly Nigeria, have witnessed a decline in their reading culture. Social media, movies, and games have taken precedence, relegating books to relics of the past. However, classics like Achebe's "Things Fall Apart" still connect with readers, offering profound insights into the complexities of identity, cultural evolution, and the clash of cultures, themes that still remain relevant today.
Despite the decline in reading culture, hope remains. To reignite the love for reading, we can take action through awareness campaigns and the adoption of digitalization. Engaging in activities like joining book clubs, contributing to libraries, participating in reading competitions, or taking on reading challenges can inspire others. For instance, John Obot, the Guinness World record breaker for the longest marathon read aloud by an individual, has inspired many to 'ReadToLead' through his read-a-thon titled Readmania.
By making books more digitally accessible, we are ensuring that literature becomes more readily available and convenient for people, thereby promoting widespread reading and learning.
There is an undiscovered beauty within the pages of books, and to truly unveil it, we must promote literacy and nurture a love for reading. In this digital age, books remain a timeless companion, a reservoir of knowledge, and a source of solace for the soul.
Are you ready to delve into the world of books but unsure of where to begin? Poemify Publishers has you covered. With our bookstore teeming with a choice selection of African works, you'll journey into the fanciful world of literature and experience the magic of reading. Click the link to get started.